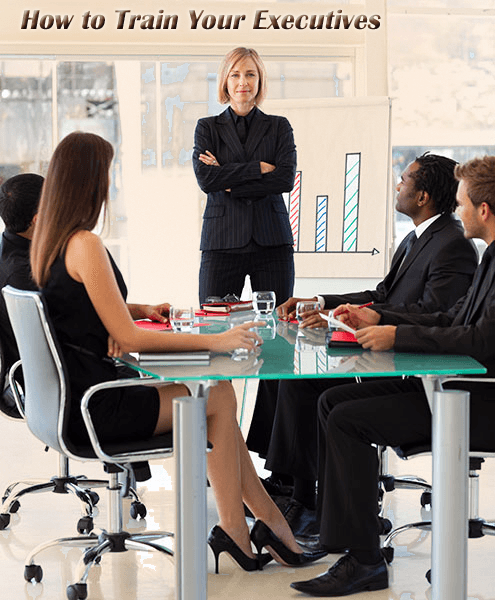 In connection to previous post that highlights the differences between an ordinary and executive training program, this post identifies different approaches to train executives. These innovative ways have been adopted by some of the world's leading companies that continuously invest in developing their human resource, and get the best out of it.
1. Action Learning
This is the most widely used method for executive learning program. Action learning method has following attributes:
The CEO selects the challenge faced by business. The chosen challenge may be a strategic issue, a hard nut to crack even for senior management.
The training program consists of teams of participants. They are responsible to learn about the challenge and come up with recommendations to resolve it.
Participants are company's executives or high potential employees. They are chosen by means of success planning process.
There is an executive coach who may be a senior executive sponsor responsible to conduct the training.
Benefits
Participants have a great opportunity to broaden their knowledge, enhance leadership capabilities, and get valuable exposure.
Organizations can get high ROI by resolving a potential business challenge through its executive team.
Action learning is harder to design and implement. You may want to hire someone experienced. Not to mention that your training space or rented  training room must be well equipped with modern-day requirements.
2. Business War Games
This one is really interesting. In this method, participants are divided into three to four teams. All but one team represent company's competitors. The information is gathered around the competition (real and legal) and the teams compete against each other in a number of rounds.
You are going to need an external consultant to run war games, if you don't have competitive intelligence to design them.
Benefits
Executives get learning experience and an opportunity to improve business analysis skills
You'll be able to identify your own weaknesses and find opportunities to capitalize on competitors' weak areas.
3. Business Simulations
This method is, in many ways, similar to war games. Business simulations involve participants competing against each other in a simulating environment. This method involves computer-based environment, so you may want to rent a classroom setup with the latest computer systems and software. Alternatively, you can introduce board games too.
Benefits
Business simulation games are focused on building behavior skills and business skills of executives
You can customize simulations by focusing on your company or the industry your serve in.
4. Executive Team Development
In order to get the maximum out of your executive, you can work on their soft skills and improve their coordination in achieving your business goal. You'll need an external consultant with extensive experience of team development. He would assess teams, identify weaknesses and design discussion forums or activities to highlight behavioral issues within the teams.
Here, highly skilled consultant is very important who can address issues in a professional manner, rather than offending people. You can expect dramatic results from this kind of training.
For any kind of setup you can rely on rental facilities to get best results. You can get also rent a seminar room to conduct workshops and training sessions for executives related to different industries. Or you can conduct a company training in a relatively small facility.