Recently, we have a client (let's name her as Jay (not her real name so as to keep confidential) who is stationed in Bangkok. She found out about our training room from our website and called us for inquiry. Hence, hearing her familiar friendly accent and subsequently understanding where she is from,. I thought that she may not be familiar with Singapore and as
I am also curious with the type of event she is intending to hold at our rooms. We took much time explaining to her about:
Our venue location which was very convenient, especially for a foreigner who is not familiar with Singapore
Our rates which are reasonably priced
The facilities that come along with the rental
The kind of set up for her event
Posted her some nice photos of a current event we had for a client
Interestingly, Jay is not at all interested with our facilities and interested to know 1) whether the location is convenient enough for her clients. This piqued my curiosity as most of my first time clients who rent our seminar room or training rooms would want to know what facilities comes along with the rental. This is the really the first rare encounter I had.
The only second question she has for me is whether we can clear the entire room for her i.e. clear all the tables and only leave one table and two chairs in the room. As this was going to be a quite tedious process, I had to confirm her required arrangement.
I asked her whether if she wanted a classroom seating arrangement, she said no. She then explained to me what she was going to hold a mass interview at our training room. She was representing her head office in Bangkok, and intends to interview a few candidates for a job position.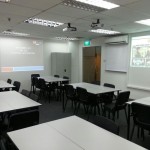 A MASS INTERVIEW
This was the first time we received such a unique request, and not wanting to disappoint her, we said yes to her event.  Of course, payment came promptly.
On the day of the rental, we prepared early by clearing the tables, and put in place the arrangement what our client requested. We also carefully vacuumed the carpet, cleared the bins, gave a few spurts of freshener and we wanted to make sure Jay will be comfortable upon arriving.
Not sure why, but this is not the first time a foreign client has rented our seminar or classrooms. However, there is this responsibility to make sure that we are hospitable towards our foreign clients whenever they book from us. As part of our service, we even gave her a call to make sure that she knows her way to our place. To be continued…