In Singapore, training and seminar room rentals are suited for all kinds of training sessions. All you need to do is to choose the one that matches your requirements, and ask the operator to create a decent training atmosphere.
So, you have chosen the best venue for training event, now start thinking what kind of room layout will suit your audience. Here, seating style will help you create the perfect atmosphere for your training session.
Whether you're giving a business presentation, training session, hosting a seminar or introducing a product, your communication plays a vital role in every single one of them. You audience should remain engaged and the best way to achieve that is to create a seating arrangement for maximum impact.
If you have any confusion, you can learn the positives and negatives of 5 most popular seating arrangements and choose the right one for your event.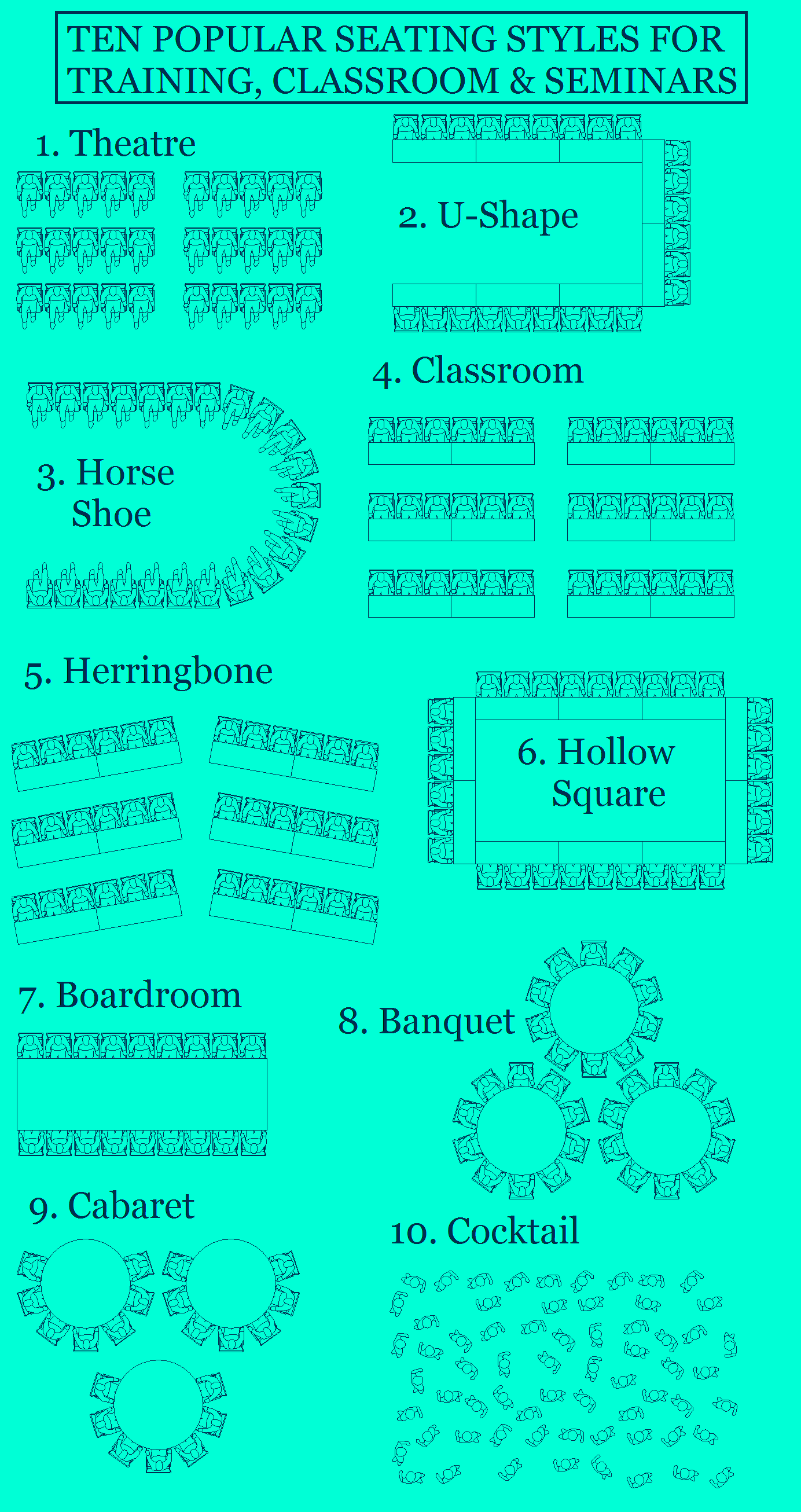 1. Classroom Style
You can find classroom style in many places and can save your time on making adjustments. This style is very common but has a lot of impact on audience. Chairs and tables are organized in straight rows, just like in schools and lectures.
Positives
All seats face towards the functional area of the room
It assists participants to take notes or consume the food and beverages
Negatives
Entry and exit is relatively difficult for the audience as the seats are closed to each other
There must be sufficient access in the aisles
Because of the tables, seating capacity is limited
Audience rarely interacts with each other as all of them face forward.
Herringbone is almost similar to this style, the only difference is, tables and chairs are angled inwards.
2. U-Shape Style
This particular style implies the arrangement of tables and chairs in the shape of "U". Furniture has an open end configuration and the audience face inwards. Suitable for meeting workshops and group discussions, this style is offered by almost every training room rental provider in Singapore.
Positives
Open end makes it easier for the presenter to engage anyone from the members
Audience can interact with each other and with the presenter as well.
This style can be set up in a limited space.
Negatives
This arrangement doesn't use the floor space efficiently
Seating capacity is reduced, you could have put almost 20% to 30% more seats.
Most of the members are seated side-on which may cause lapse of attention.
Horse shoe arrangement is almost identical to U-Shape style, but because of the nature of chair placement, there is no room for table placement. This style is ideal for workshops where discussion and interaction are the main tools of learning.
3. Cabaret (Semi Banquet)
This style is similar to round dinner table style in which one table is shared among 6 to 9 participants, depending upon the diameter of the table.
Positives
Audience interaction is maximum
The open-end allows participants to focus on the presentation
Negative
Seating capacity is reduced
Unlike a common, Banquet-styled seating, this one offers an advantage of enhanced focus, as there are no seats or other equipment obstructing the vision in between participants and the main functional area.