Singapore is arguably the one of the busiest places of the world with a massive 5 million population, and over 8 million tourists visit this country every year. This goes to show how important the place is for small, medium and large businesses, giving loads of opportunities for them to market their brands and kick start their campaigns.
Singapore has a reputation of producing state-of-the-art training rooms, seminar rooms and classrooms rentals. If you own a business, why don't you make the lasting impression by marketing your service or product in a seminar room rental in Singapore?
As an experienced business owner, you wouldn't deny the importance of such a facility – A place where many things happen:
Vital information is exchanged
Important deals close, and
Decisions are made.
Unlike those large vicinity, small or medium businesses cannot enjoy such privileges, but they can cash in with equally good training room rental facilities. So, the questions is, how can you find the best seminar room facility? What are the things you should have to make your seminars successful? This article will tell you some basics.
Seminar room facilities provide you with the all the basic equipment:

Large and spacious sound proof rooms
Well furnished floor with up-to-date furniture
Fast internet and WiFi accessibility
Latest computers that support multiple hardware and software
Multimedia/OHP projectors
Backups
With these things in mind, plus your budget and the number of attendants, make sure following things are taken care of to your satisfaction: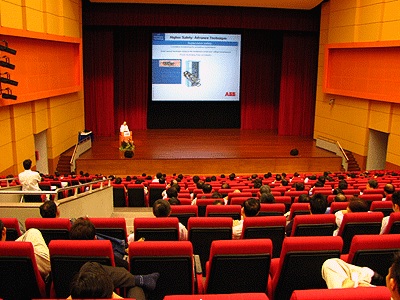 1. Web Search isn't Enough
Don't get excited to see the images on the web, until you see the real rooms. Although you can book rooms online, it's always good to check them physically. Or, if you really need to save time, go through each and every detail, and clarify your concerns over the phone.
Remember: you may have a limited budget, but you cannot spoil your seminar because of the low price you get. A good facility should be your priority. Location however, is the most important factor which determines the charges.
2. Minimum Rate May Be A Trick
The reason why you should not fall for the minimum rate, is because of the hidden charges appearing in your bill. Those who don't go through the details, end up paying twice than the actual price. The best way is to ask lump-sum for all the services you need.
3. Don't Forget to Note Down Prime Locations
Do you know the place? Is it too difficult to access? Are you aware of the transportation options? These questions should be well-answered before finalizing a classroom or training facility. Choosing the best place nearby a prime location always helps attendants to reach conveniently.
Or, if you intend to hold a seminar in a relatively low-traffic place, don't forget to mention transportation options for attendants.
4. A Dummy Session Will Help You Reach Final Decision
It's good that you've finalized the facility. What about the equipment? Have you seen them working? Have you checked whether all systems work properly? Or what will be your options in case, if the air conditioning unit goes off in the middle of the seminar?
A dummy session will make it easier for you to decide about the facility. Alternatively, the operator would show you a live meeting, seminar or training session to satisfy you.